masterclass series
PR-Brandifesto Masterclass
The Masterclass teaches all secrets, known and unknown, on branding and PR with a promise for ROI to all participants.
Why this PR and Branding course?
1 Certification

17 Units

118 Lessons

120 Videos

10 PDFs

10 Live classes

2 Bonus live classes

4 Group Coaching sessions
Learn What's Important
The Masterclass focuses on what is important. No time is wasted on things that will not be practical or useful in the long run. We want you to be able to immediately apply what you have learnt.
Our Top Experts Are Your Mentors
Examples. They are the best part of learning. In this course we give you the foundation of it all, and at the same time, we have case studies of entrepreneurs who made it and instructors that coach you during their workshops.
Why should I take this course?
This is why we created our course. We aim to coach our students and equip them with the right mindset and toolkit to utilise coaching, branding, networking and public relations and make them, in essence, their own best brand ambassadors and their own PR strategist.


In a digital world, people have focused a lot on their brand image but have forgotten to align it with who they are and the ability to support it with their personality. They have focused a lot on digital marketing and growth hacking expecting the algorithm and ads alone to make them visible.


The good news is that human relationships and the personal touch still matter a great deal even in this digital era. We still recommend the best of who we know. We still ask for the best in all lines of work. And we understand that networking is still of utmost importance.
In your own time
All programme lessons are self-guided to allow you to take your time in your development. the only exception is the live classes which are recorded and uploaded on the platform for you to watch over and over!
Business or no business, this is for you
if you have a business, this masterclass will help you audit your branding & pr processes. if you do not have a business, we will help you create one.
Flexible learning
the course content drops every week. you have hours of pre-recorded videos, e-books, assignments and assessment to help you complete the course.
Live classes, coaching & bonus classes
even though you can complete the masterclass at your own pace, we give you that extra little knowledge with our amazing instructors and our coach.
Certificate
Our Masterclass is so comprehensive and gives you so much knowledge that you deserve the certificate once you complete the whole course within a year of registration.
Our Groove begins on May 11, 2021
Masterclass description
The PR-Brandifesto course is a three-month online blended learning programme that is delivered two times a year. We combine coaching for your branding with the forgotten art of effective Public Relations.
The course offers the flexibility of self-paced learning thanks to our e-learning platform. On this platform you can find short videos from our instructors as well as tips and stories from experts in many fields – from businessmen and business women, to experienced PR specialists, to instagrammers and vloggers, to branding experts. We have made sure to add experts on growth hacking, digital marketing, Instagram (posts and stories), podcasts, professional zoom meeting set-up to complete your toolkit.
How will you learn?
The theory is presented through case studies, fundamental principles and suggestions based on experience. The e-books are easy to read while the tasks offer a hands-on approach to coaching yourself, and utilising your branding in a successful PR strategy.
The course also has a face-to-face element with live classes once a week and interactions on our private community feature (Facebook Group).
Every week a live class with one of our instructors makes sure that all questions are answered and all knowledge is applied practically through the tasks.
You are asked to apply your learning throughout the duration of the course to the creation or re-branding of your brand image and the set up or refinement of your business.
We are very proud to introduce a unique feature to the educational word. We feel that online learning needs a different twist. So, we came up with the idea of "Just Rolling With It".
Overall course objective
This course will introduce you to the core concepts of the impact of your personality can have on your branding and its practical application in designing a successful brand and the fundamental principles and practicalities of public relations.
Don't forget to join the community
Get free access to amazing resources, news and more right in your mailbox.
Just Roll With It
Just Roll With it In Your Learning
Our Academy has introduced a unique learning feature to our course that we call "Just Roll With It In Your Learning". This feature is used for three learning items: the course content and is identified as "Just Roll With It On The Course", your networking and business expansion identified as "Just Roll With It In Business", and your templates identified as "Just Roll With It And Choose Your Templates"
How it works
In our private Masterclass community page

Facebook Group

, we give you the opportunity to choose what you would like to work on in the next live class and your assessments. We also use this feature for activities that help you network and expand your business and for the templates that are included for free in this course.

You get to choose even before you start the course. As soon as you register, you will receive an email that guides you to the specific post in which you vote for the content of the first live class from a list of options that you feel is most suitable to your needs.

Every time the date gets closer to the next live or a task to be assigned, you will receive an email notification with the next options

.
Experts from the field teach you
Instructors, Case studies, Interviews
What is amazing about this course is that instead of having you go around looking for each element on your own, we have put together a team that teaches you everything. And the best part? You can ask them in real time during the live classes and through the community.

Our collaborators are either instructors, or entrepreneurs that will share their story as a case study or experts who share their real life experiences or expertise via interviews – and all this as part of your learning.
Group Coaching Sessions
You get coached by one of the best
Our creator, Pamela, has been coaching individuals and members of the start-up, corporate and United Nations world since 2009. Her experience and abilities "in breaking you down before you are built up again" have made her known for her precision in her questions and element that needs the be changed or improved. She calls her coaching "intellectual performance enhancement" and that is what she will be doing during the group coaching sessions: she will ensure your focus and skillsets are enhanced so you can achieve what you feel you need to achieve.
Practise while networking
Our experts are your mentors
We have entered into agreements with experts in various fields who are there to help you out while completing your assignments and final assessment. The aim of these tasks is to get you to go out in the market and test your brand, product or service in the real world. You will need to connect in an authentic and genuine manner to professionals who will provide us with feedback that will be including in your assessment portfolio. These activities are known as "Real World Activities" and they are part of the "Just Roll With It In Your Learning" feature.
Το πρόγραμμά σου
Οι ώρες των μαθημάτων θα είναι σε όλες τις περιπτώσεις 20.00 - 22.00, ώρα Ελλάδας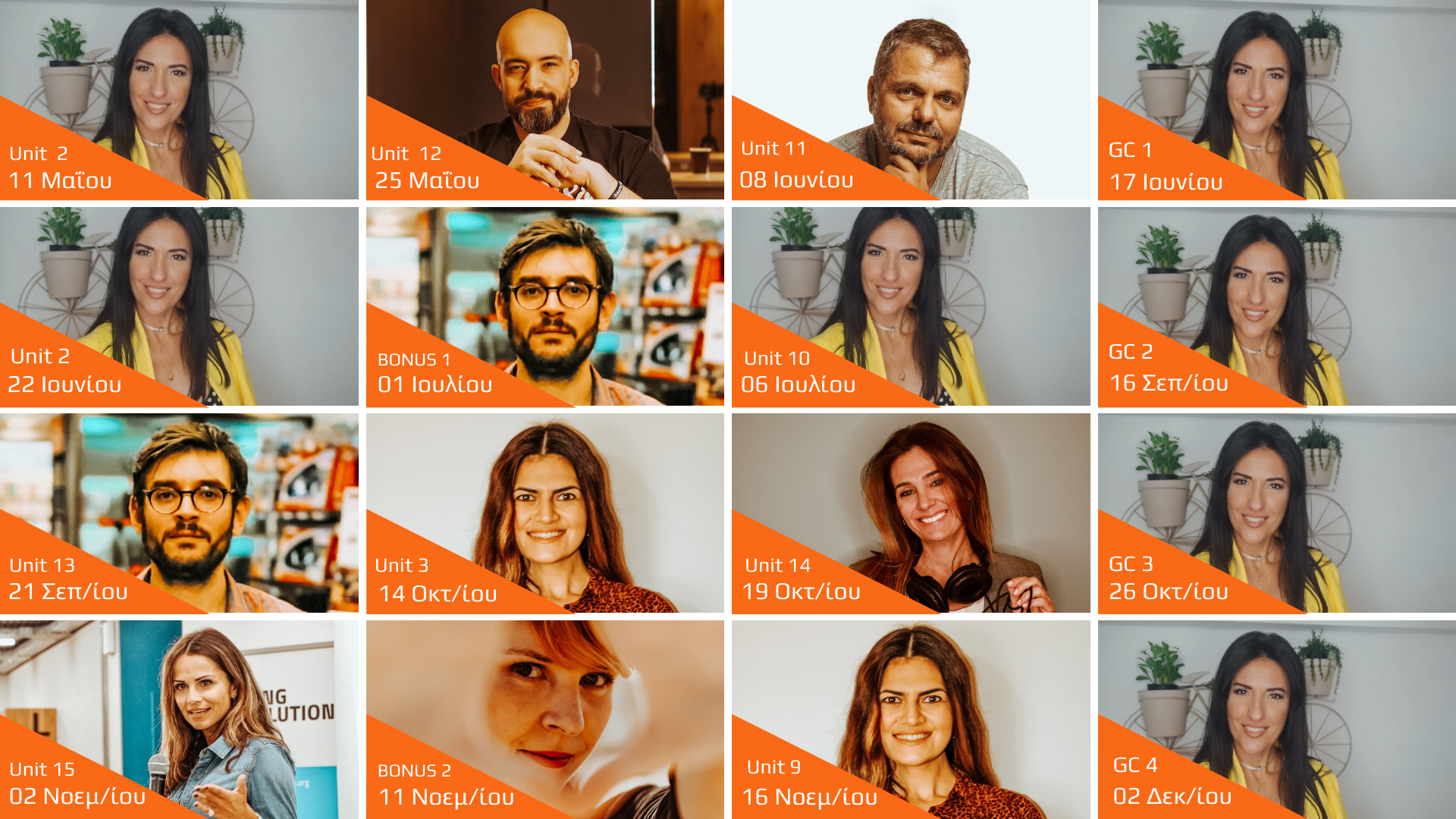 Enjoy the amazing discount and our Masterclass content
Assessment
Your final grade will be calculated from the following components:
weekly quiz grades
The RWA (Real World Activities) grades
Nine Just Roll With It on the Course assignments (peer-assessed)
Nine Just Roll With It in Business assignments (peer-assessed)
Help during the course
If you have any academic difficulties, we would ask that you add it to the Discussion Forums in the Community Board. Often your peers will be able to help you, but if not, then either the Academy Instructors or one of our experts/mentors will be able to help with your query.

For technical queries, please go directly to the PR-Brandifesto account in the community as this will ensure you get a fast response. We have all systems in place to make you feel that we are taking care of you.
Highly

Engaging courses

Unique Learning Paths

Video Conferencing

Assignments

Support with Live Chat
Certificate
The PR - Brandifesto Academy offers a Certificate of Achievement. In order to get a Course Certificate, you must:
Complete ID Verification, which includes submitting a photo and completing your account profile details.
Pass all required assignments in the course.
Have completed the full payment of the Masterclass.
If you choose not to verify your work, you can still participate in the complete course. While your final score will be noted on your course records page, this Masterclass will not offer any statement of accomplishment.
For more information on Course Certificates please click
here
Created with